Educhain Integrates with Digilocker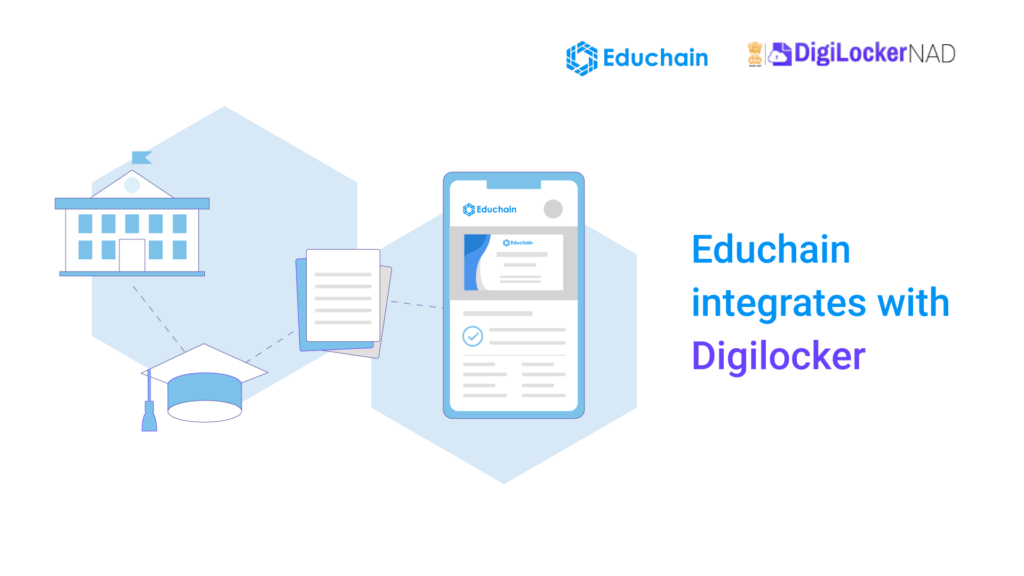 In a world that's going digital, it has become obsolete to rely on paper records for academic purposes. The challenge of sharing and receiving hard copy documents—especially when students and graduates depend on these for employment—is stressful. In countries like India, what's most costly, however, is the reputation of institutions from fake degrees and fraudulent documents. Just last year, news broke of India's largest educational fraud case, where 36,000 fake degrees were sold by a renowned Indian university.
The government of India's security initiative to combat this, DigiLocker NAD, stores academic documents digitally, and has been an empowering tool for schools. Educhain has also integrated with their national app and is fully compatible. Educhain's aim is to further help these schools as it issues DigiLocker NAD compliant documents that are also fully secure and blockchain enabled.
What are the benefits of Educhain for all parties?

User can easily upload any academic credentials to DigiLocker NAD via Educhain's 100% free integration
It allows schools (the publisher) to provide their students with academic documents quickly, securely, and digitally.
Employers can access the Verification Portal which gives a streamlined method for validating the authenticity of a candidate's academic credentials in real time with 100% accuracy.
Educhain offers an innovative revenue generation tool by reducing the cost per student, which means universities can issue and charge for unlimited digital records per student.
The Academic Passport allows students of all levels to receive, save, and manage their credentials in a user-friendly and secure digital wallet.
Why use Educhain's integration vs. use DigiLocker NAD on its own?
Blockchain
Educhain is blockchain powered, which guarantees the safest security for student records. You may choose from the option of on-premise customization or cloud, creating even greater security.
Tamper-proof
This solution is hacker-proof and immutable. Once information is uploaded to the blockchain, it cannot be tampered with.
Instant verification
Educhain verifies documents instantly. DigiLocker NAD's verification process still requires third-party verification.
Customized Templates
Unlike DigiLocker NAD, Educhain can help promote your university's brand image through the use of school colours, logos, and social media marketing. A unique link is offered that students can post for prospective employees and other higher education institutions.
Revenue generation
Educhain gives schools a cost-effective way to generate profit and turn what was once a cumbersome, expensive, time-consuming task into an effortless money-making venture.
Blockchain ensures student records are secure, easily accessible, and transferable. It offers unparalleled security to prevent fraud while streamlining many operations and processes, creating a better student experience. Discover why Educhain is trusted by leading educational institutions around the world.
See how you can begin issuing digital academic records for your school