Issue, Share and Verify Any Academic Record Digitally
Reduce costs, save time and improve security
for your school.
Trusted by Top Organizations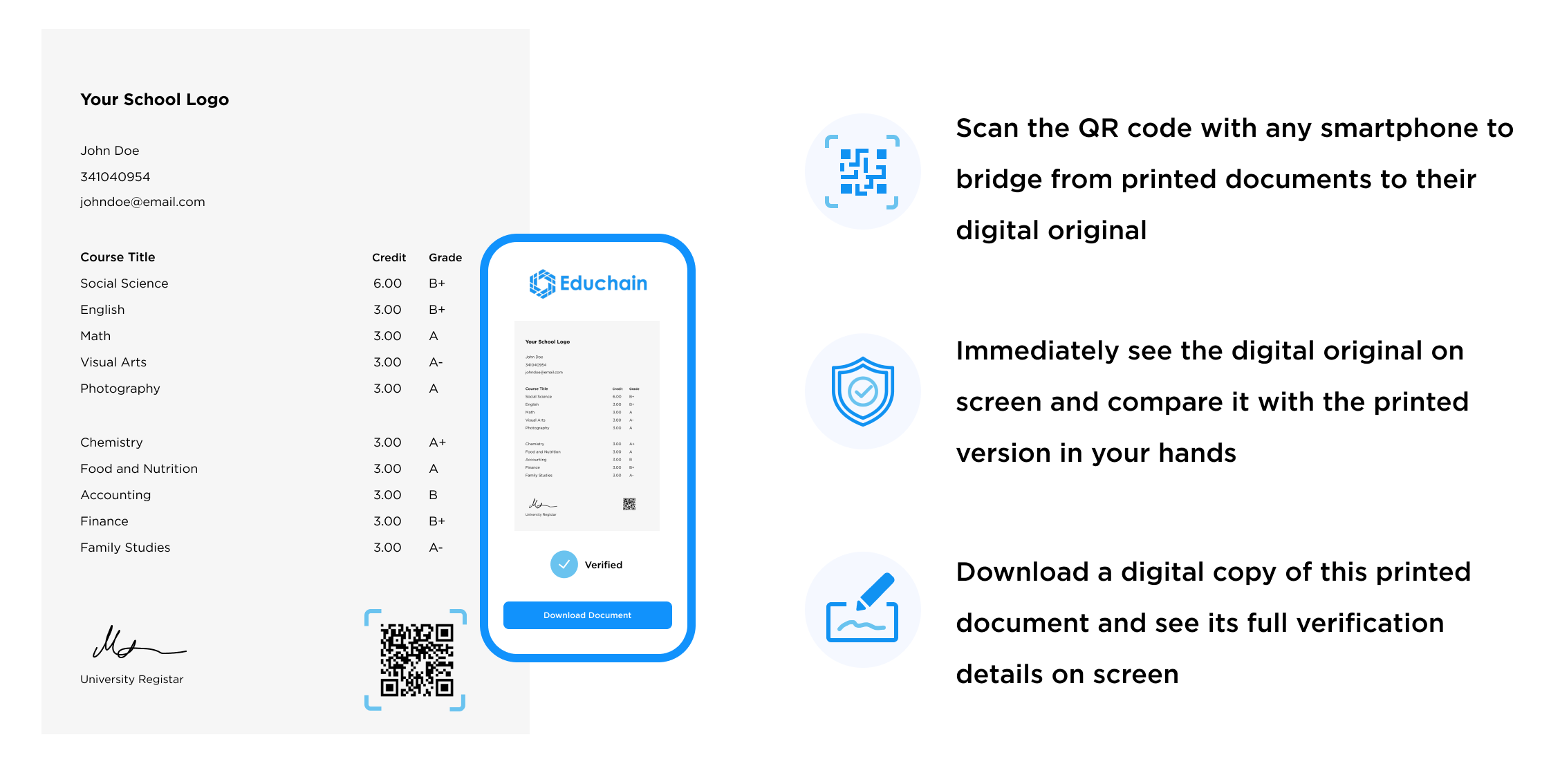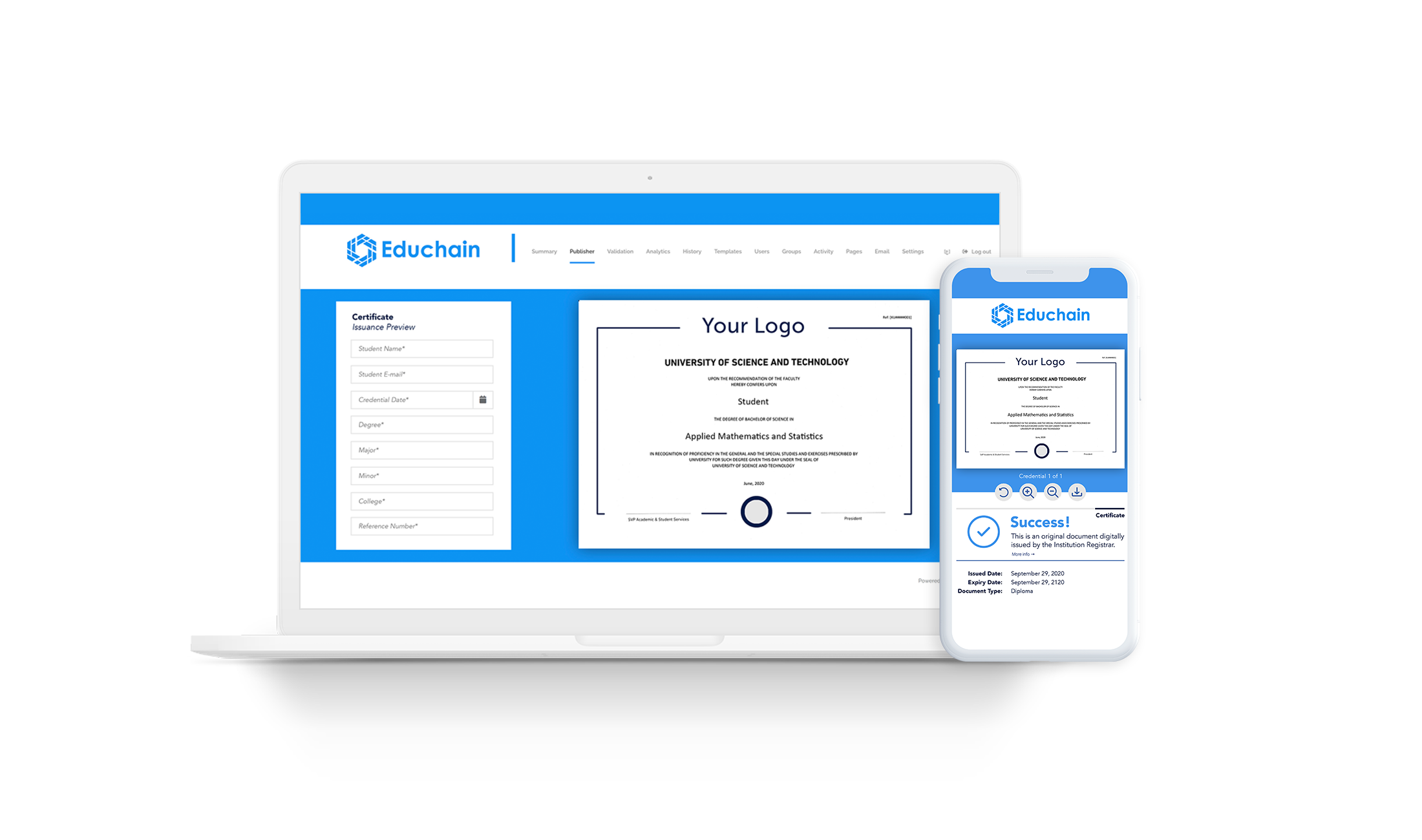 Institutions worldwide are ditching outdated legacy credentials by harnessing the power of blockchain.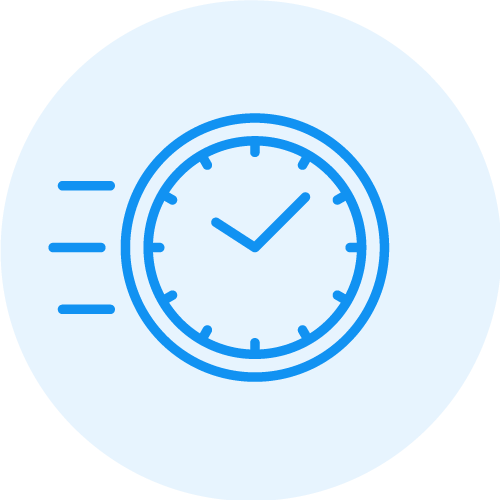 Save Time
Significantly decrease the amount of time required to issue, share or verify academic records. Save up to 89% of your current processing time.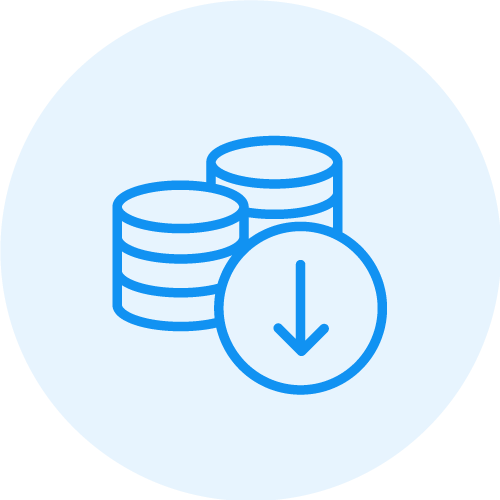 Reduce Administrative Costs
Reduce up to 82% of your school's processing costs by going paperless and automating your workflow. Educhain integrates seamlessly with your school's systems.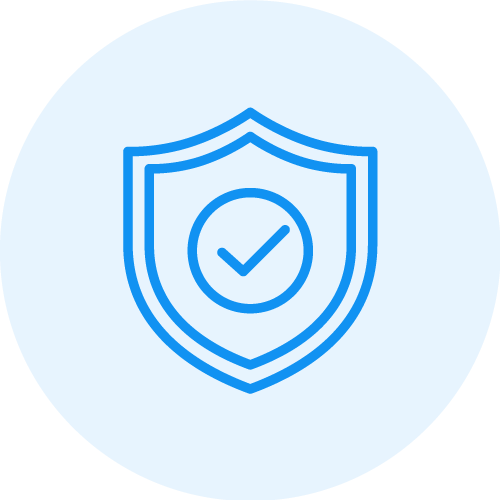 Enhanced Security
Protect your school's brand from credential fraud by issuing verifiable digital records.
Educhain leverages blockchain technology to issue digital records, which ensures 100% accuracy.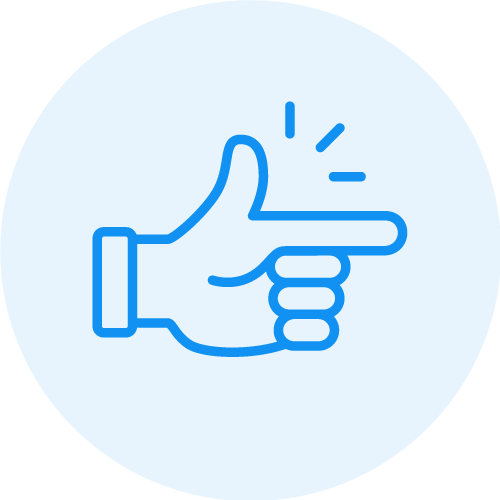 Simple to Use
Educhain is quick to set up and easy to use. No IT background is required to use the solution.
Start issuing digital academic records as soon as 30 days from now.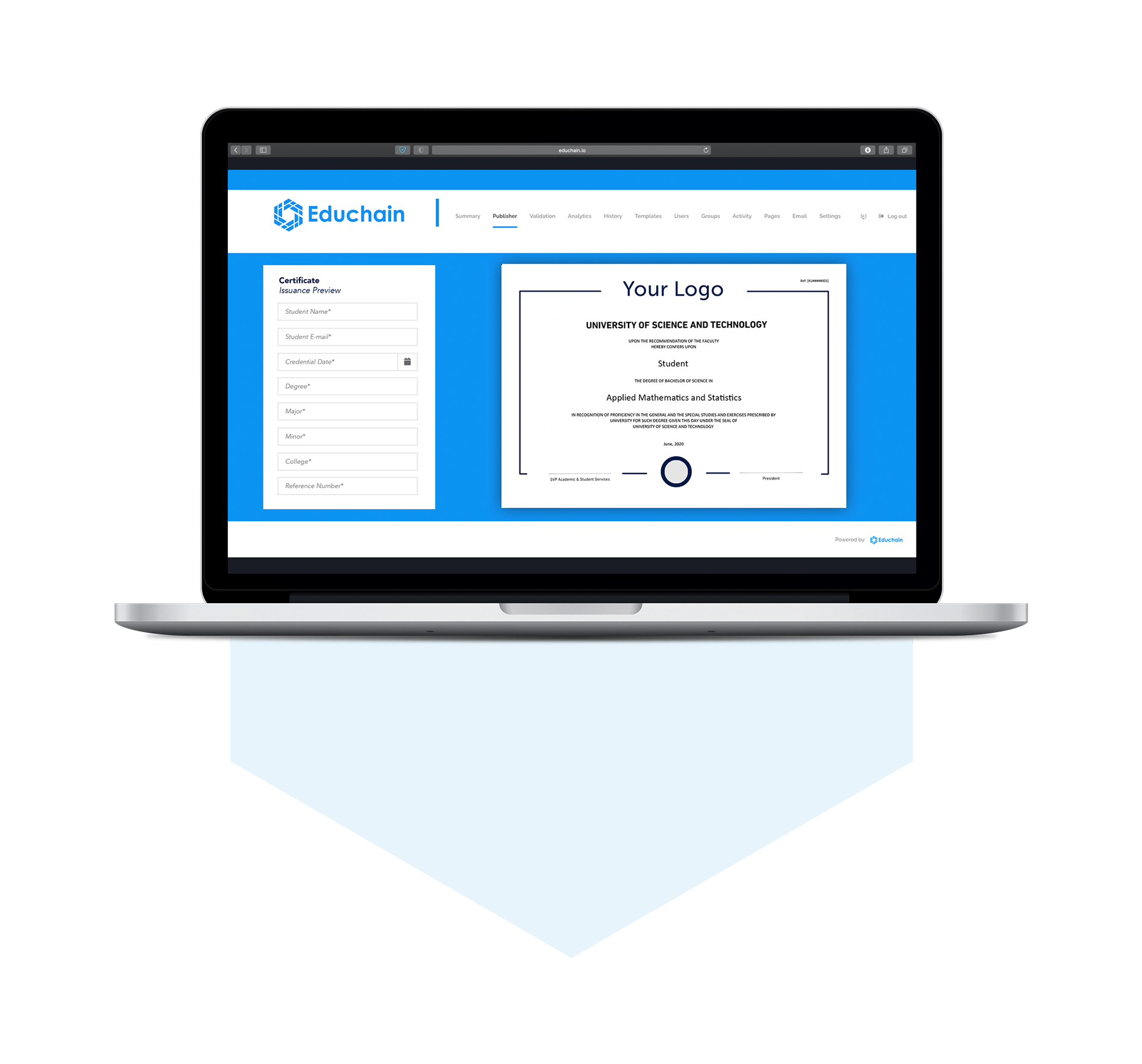 Streamline the issuance of digital academic credentials using The Publisher. Automate, manage, and track the issuance of all documents, and ensure you never lose a document again. Educhain allows schools to provide their students with academic documents quickly, securely, and digitally.
Customize the digital documents with your school's templates, branding, logo, and colors. Educhain can be hosted on the cloud or on-premise, ensuring that data never leaves your school's system.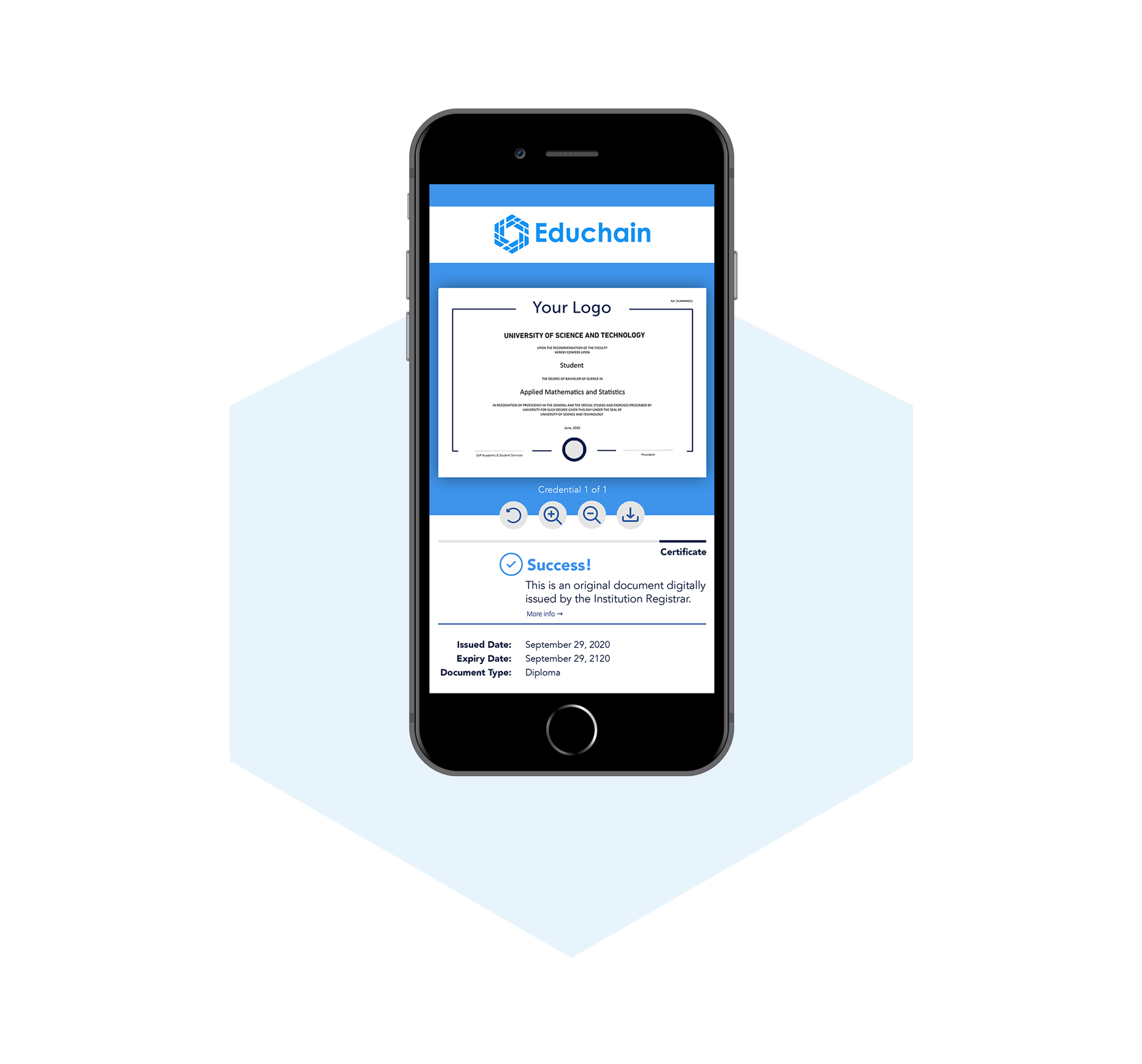 Allow students of all levels to receive, save and manage their credentials in a user-friendly, and secure, digital wallet. Students can enjoy the freedom to share their achievement with employers, or to social media, via unique links and across multiple platforms.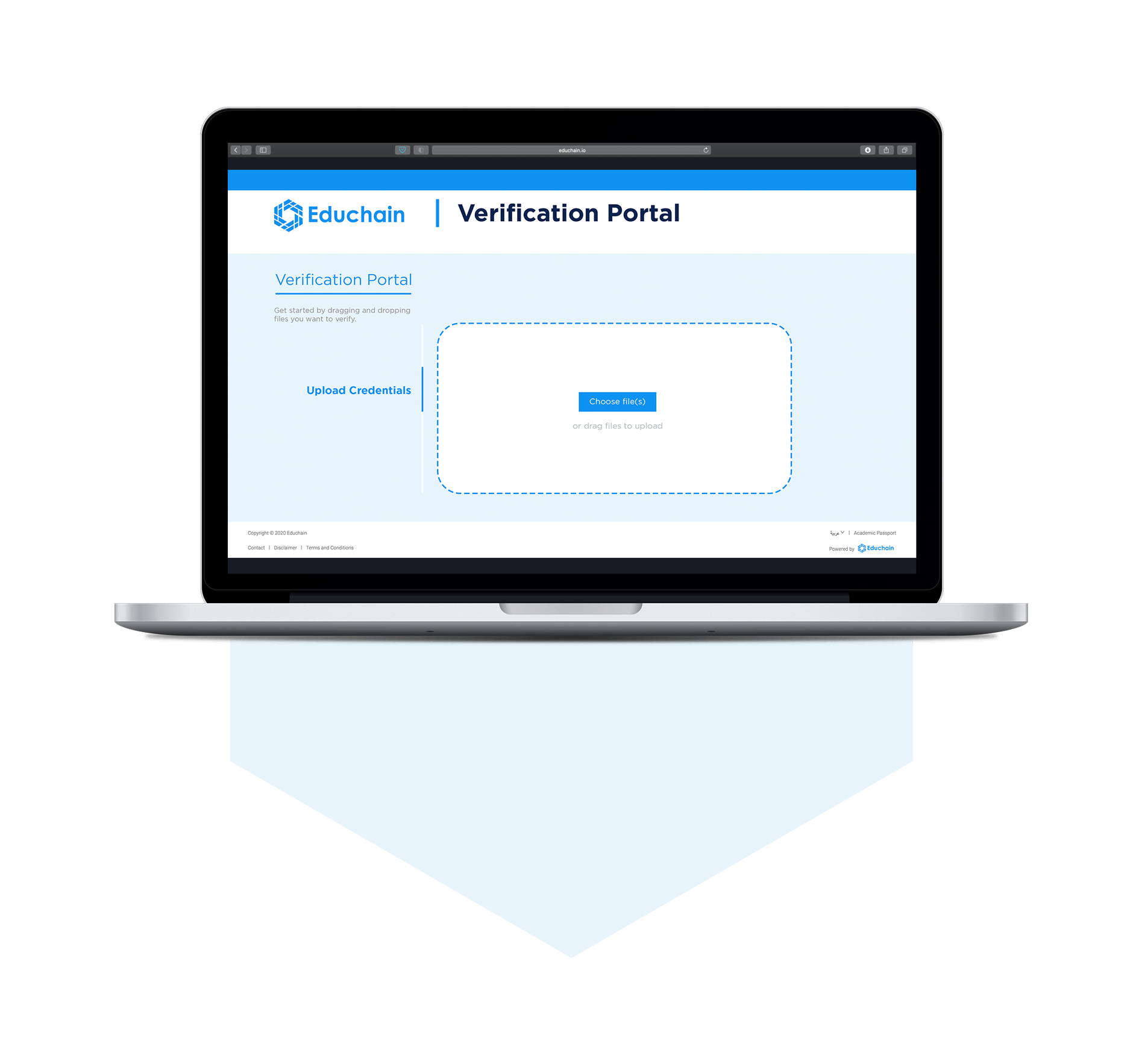 Authenticate digital documents with 100% accuracy. Educhain gives Employers a streamlined method for validating the authenticity of a candidate's academic credentials. The process is instant, automated, and available 24/7, so employers never need to contact the issuer or wait for a response. Educhain helps eliminate academic fraud and save on expensive screening costs.
Learn How Top Schools Use Educhain
Over 10,000 active students and all alumni can request and access digital records via student e-services
Over 75,000 students and alumni were provided the UAEU Academic Passport for any available records from the Registrar's Office
Integrated with student eServices, alumni portal, and payment processing for instantaneous, on-demand record issuance
Follow these steps to start issuing certified digital records:
1

Fill out the form below

Request a free demo and see how much time and money you can save with Educhain. This is completely free with no obgliations.

2

Select your plan

Our experts help you choose the solution that fits your exact needs. Choose between on-premise and cloud solution, and our team will customize the designs to fit your school's branding.

3

Set up and launch

Go digital & start issuing verifiable digital records. Most schools are up and running within 30 days!
See how you can begin issuing digital academic records for your school